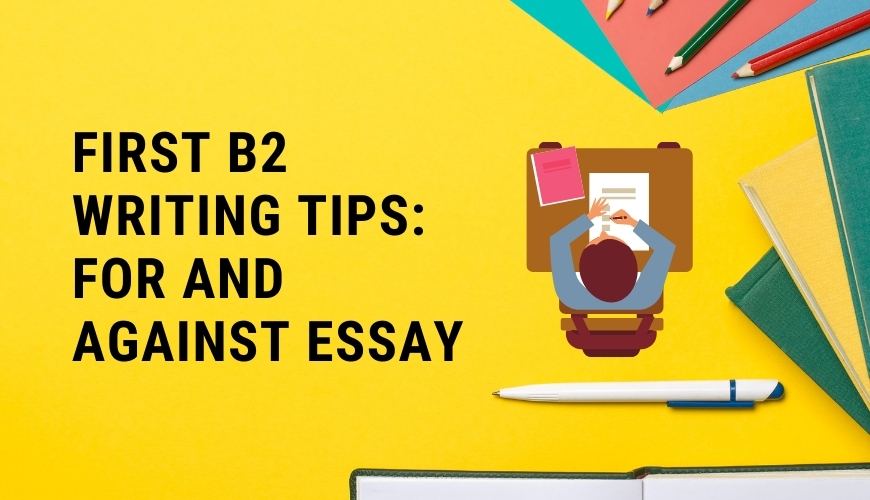 First B2 Writing tips: For and against Essay
Posted by

Categories

Noticias

Date

18 marzo, 2021
En el paper del Writing del First B2 hay dos tipos de ensayos: opinion essay or for and against essay. En la sección de hoy del FCE Writing Tips entraremos en detalle en la opción for and against essay así como las diferencias principales con el otro tipo de ensayo.
Los puntos principales que debes saber sobre el for and against essay son:
Debes escribir entre 140 y 190 palabras.
Debes utilizar un registro formal y un tono objetivo.
Tarea: Te proporcionan el título del ensayo y una idea general sobre el tema. Te pedirán que proporciones 5 argumentos a favor y en contra sobre el tema.
Ejemplo de tarea: 'Young people are spending too much time on their mobiles. They should spend a month without this technology.'
Estructura del for and against essay
Párrafo 1: Introducción. Declaración general sobre el tema. No expreses tu opinión
Párrafo 2: Contrasta un argumento a favor y en contra en cada párrafo.
Párrafo 3: Aporta una o dos razones más para apoyar tu argumento o los argumentos de otras personas en contra de tu opinión y por qué no estás de acuerdo con ellos.
Párrafo 4: Resumen y conclusión. Repite tu opinión.
PÁRRAFO 1
En el párrafo introductorio, presenta el tema con claridad y de una manera interesante. Haz una declaración general, como puede ser decir por qué es importante o por qué las personas tienen diferentes opiniones al respecto sin dar tu opinión en este párrafo. Un ensayo "a favor o en contra" debes guiar al lector de tal manera que llegue a tu conclusión.
PÁRRAFO 2
Hay dos maneras de estructurarlo. Puedes contrastar un argumento a favor y en contra en cada párrafo o dar todos los argumentos a favor en un párrafo y todos los argumentos en contra en otro párrafo.
Te recomendamos elegir la primera opción y que analices una idea principal en cada párrafo.
PÁRRAFO 3
Proporciona los argumentos en contra en este párrafo y aporta ejemplos que puedan ayudar al lector a comprender tus argumentos.
PÁRRAFO 4
Repite tus argumentos principales en la conclusión. Expresa tu opinión y realiza un balance del tema.
USEFUL EXPRESSIONS FOR AND AGAINST ESSAY
Useful expressions and linking words/phrases – MAIN BODY
• To list points:
Firstly, First of all, In the first place, To begin/start with, Secondly, Thirdly, Finally
• To list advantages:
One/Another/A further/An additional (major) advantage of… is … The main/greatest/first advantage of… is …
• To list disadvantages:
One/Another/ A further/An additional (major) disadvantage/drawback of. The main/greatest/most serious/first disadvantage /drawback of… Another negative aspect of…
• To add more points to the same topic:
in addition (to this), furthermore, moreover, besides, apart from, what is more, as well as, not to mention (the fact) that, also, not only … but also/as well, both … and, There is another side to the issue/question/argument of…
• To make contrasting points:
on the other hand, however, still, yet, but, nonetheless, nevertheless, even so,

it may be said/argued/claimed that,…

others/many people oppose this viewpoint/strongly disagree…, claim/feel/believe this argument is incorrect/misguided

although, though, even though, while, whilst, whereas, despite/in spite of (the fact that), regardless of the fact that

Opponents of … argue/believe/claim that…

The fact that… contradicts the belief/idea that…

While it is true to say that…, in fact…

While/Although …, it cannot be denied that…
• To introduce examples:
for example, for instance, such as, like, in particular, particularly, especially, This is (clearly) illustrated/shown by the fact that… One/A clear/striking/ typical example of (this)… The fact that…. shows/illustrates that…
• To emphasise a point:
clearly, obviously, it is obvious, naturally, of course, needless to say, indeed
• To express reality:
In fact, the fact (of the matter) is, actually, in practice, it is a fact that, in effect
To make general statements:
as a (general) rule, generally, in general, on the whole, by and large, in most cases
• To make partially correct statements:
to a certain extent/degree, to some extent/degree, in a way/sense, this is partly true (but), to a limited extent, there is some truth in (this), in some cases, up to a point
• To explain/clarify a point:
in other words, that is to say, this/which means that
• To express cause:
owing to, due to (the fact that), on account of, on the grounds that, given that, because, as, since
• To express effect:
therefore, thus, as a result/consequence, consequently, so, for this reason, if… were to happen, … the effect/result would be…
• To express intention:
to, so as to, in order to, so that, with the intention of (+ing)
Useful expressions and linking words/phrases: Conclusion expressing balanced considerations/opinion indirectly
In conclusion,
On balance,
All things considered,
Taking everything into account/consideration,
To conclude,
To sum up,
All in all,
Finally/Lastly,
……………………. it can be said/claimed that …
……………………. it seems/appears that…
……………………. it would seem that…
……………………. it is likely/unlikely/possible/foreseeable that …
……………………. it is clear/obvious that…
…………………….. there is no/little doubt that …
…………………….. it is true to say that …
…………………….. although it must be said that …
……………………. it may be concluded/said that …
Useful expressions and linking words/phrases: Conclusion expressing opinion directly
In conclusion,
On balance,
All things considered,
Taking everything into account/consideration,
To conclude,
To sum up,
All in all,
…………………………… it is my belief/opinion that …
………………………….. I (firmly) believe/feel/think that …
…………………………… I am convinced that …
…………………………… I am inclined to believe that …
…………………………… I (do not) agree that/with …